MEET THE SURGEONS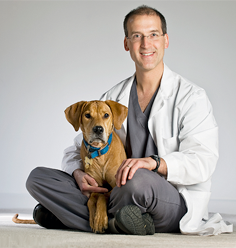 Tibor Lazar, DVM
Diplomate of the American College of Veterinary Surgeons
Reston, Virginia
703-880-8613
info@lazarveterinarysurgery.com
Dr. Lazar grew up in Fairfax County, graduated from Robinson High School in 1987, and received his BA in biology at the University of Virginia in 1991.
He earned a Doctor of Veterinary Medicine degree in 1996 from the Virginia-Maryland Regional College of Veterinary Medicine. In 1997, he completed a one-year rotating internship in small animal medicine and surgery at the Animal Medical Center in New York City.
Following a year of private practice in Manhattan, Dr. Lazar moved to Maitland, Florida, and spent four years in a small animal surgery internship and residency at Affiliated Veterinary Specialists. In 2003, he earned board certification by the American College of Veterinary Surgeons.
Since 2002, Dr. Lazar has focused on small animal specialty surgery in Northern Virginia. He lives in Reston with his wife, two sons and a plethora of pets including dogs, cats, birds, snakes and fish.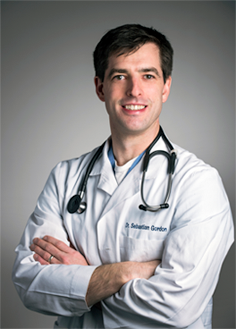 Sebastian Gordon, DVM
Diplomate of the American College of Veterinary Surgeons
Bethesda, Maryland
703-880-8613
info@lazarveterinarysurgery.com
Dr. Gordon graduated from the University of Vermont with a BS in Animal Science in 2001. After four years at the Cummings School of Veterinary Medicine at Tufts, he participated in a one-year small animal internship at the Animal Medical Center in New York.
Following a three-year small animal surgery residency at the Ontario Veterinary College at the University of Guelph in Canada, he achieved Diplomate Status as a board-certified surgeon in 2010.
After four years in a small animal surgery practice outside Washington, DC, he and his family moved to Tasmania where he joined a small animal hospital and was the only specialist (surgical or otherwise) on the entire island.
Missing the oppressive mugginess of DC summers, the Gordons returned to their Bethesda home in 2016 and he joined Lazar Veterinary Surgery.
When not in surgery, Dr. Gordon tries to survive raising three sons. In rare moments of peace, he enjoys finding the perfect recipe, talking about outdoor activities, and subjecting innocent bystanders to his banjo playing.
Gwyneth Culp, DVM
Diplomate of the American College of Veterinary Surgeons


info@lazarveterinarysurgery.com
Dr. Culp earned a B.S. in biochemistry from Eckerd College in 2005. She then spent time working in rural Kenya before earning her Doctor of Veterinary Medicine at Iowa State University College of Veterinary Medicine in 2010.
She went on to complete several one-year internships, followed by a four-year small animal surgical residency at the Ontario Veterinary College along with a doctoral degree in biomechanical testing of surgical locking plates.
Dr. Culp achieved Diplomate Status as a Small Animal Surgeon in 2018.
She spent six years as a surgeon at a small animal speciality practice in Des Moines, Iowa which she enjoyed greatly, and moved back East in 2023. When not doing surgery, Dr. Culp enjoys spending time outdoors with her husband, children and her friendly Flat Coated Retriever.
MANAGEMENT TEAM
Hannah Schofield
Finance Manager
Hannah is a British native that emigrated to the US after college in 2003. She entered the veterinary field quite by accident when she took a Saturday job at a small clinic whilst studying for her Masters in Clinical Psychology. After quickly realizing she was pursuing the wrong dream, she shifted gears and started working at a Northern Virginia general practice in 2007. Developing an interest in surgery, she moved into specialty medicine and began studying for her degree in veterinary technology in the evenings. Hannah was staff supervisor for a large surgery group for three years before taking time off to start a family in 2012. She joined Lazar Veterinary Surgery the following year, working from home on her farm in Western Loudoun County that she shares with her horses, dogs, cat, chickens, fish, two beautiful daughters, and long suffering husband. Hannah spends most of her spare time training and competing her retired racehorse, Rigby, in local horse trials, and passing on the horse obsession to her girls.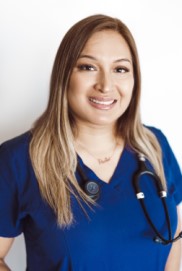 Veronica Acosta Galicia, LVT
Practice Manager
Veronica is a Northern Virginia native who has been an animal lover since her early years visiting family in her family's native country Mexico. She obtained her degree in Veterinary technology in 2004 from Northern Virginia Community College. After graduating, Veronica began working as a licensed veterinary technician at Smithsonian's National Zoo in both the Washington DC and Front Royal, VA campuses where she worked for 11 years. More recently Veronica worked as the program specialist managing the Global Health Department for the Smithsonian Conservation Biology Institute at the National zoo. Veronica also has extensive experience working in various specialty practices and started with relief work for Lazar Veterinary Surgery before joining the team as Practice Manager in September 2021. Quality customer service and client education are some of Veronica's primary interests. Veronica is also currently working on a Veterinary Practice Management certification through Penn Foster. In her spare time, Veronica has done volunteer work abroad in India, Guatemala, El Salvador, and Mexico assisting in high volume spay/neuter and surgery clinics that teach veterinarians and veterinary students the fundamentals of veterinary medicine. Outside of work, Veronica loves spending time with her son and enjoying the outdoors. 
Sam Ku
Assistant Manager
Sam has been in the veterinary field since 2013. He started in private practice, before joining Lazar Veterinary Surgery to further improve his skills. Originally from south Jersey, he moved to the northern Virginia area in 2004. He had a career change, and decided to follow his interest in veterinary medicine. He is happy to have found an amazing team of individuals who are passionate about delivering great quality of care for their patients. In his free time, Sam enjoys traveling, watching sports, and playing guitar. Sam also has an 8 year old bullmastiff mix who loves squeaky toys, sunbathing and short walks. He hopes one day to live on a farm with a wide range of different animals.
Courtney Hook
Associate Manager
Courtney has been in the veterinary field for several years as a Veterinary Assistant and volunteer at various rescues and organizations. She developed an interest in surgery when she was trained to monitor anesthesia and strives to learn more about it. On her days off you can find her up in the mountains or hiking the miriad of trails in the DMV area. Her love of nature and wildlife came from her beloved home state of Maine. During her down time at home she can be found curled up with her cats, with an expertly crafted cup of coffee and a good book.
MEET OUR TECHNICIANS
Christian Salmeron
Surgery Assistant
Christian has been in the veterinary field since 2017. He has a passion for working with animals. He started as a kennel assistant in a small private practice for about 2 and a half years. This same practice offered him an opportunity to grow in the field and begin teaching him veterinary assistant work. Christian since then has worked at 2 other general practices where he developed his interest in anesthesia and surgery. Christian joined Lazar Veterinary Surgery in 2021. He has enjoyed working with such an amazing, talented, Always friendly with a quick and engaging smile. He will be happy to help you and your pet. In his free time, he enjoys long car rides and riding his motorcycle. 
Alex Alva
Surgery Assistant
Alex has been in the veterinary field since 2017, she started as an overnight critical care assistant and once she became trained in surgery she found a new passion opened in front of her. Alex always found joy in being in the operating room with the surgeon and learning as much she could when exciting cases came through. During her downtime she is always on the move, she has a pitbull mix that is full of energy and two chihuahuas that sleep their life away. On her days off, Alex will go away on weekend excursions, travel to new places, or spend time with her family.
Cameron Korzen
Surgery Assistant
Cameron has been working in the veterinary field ever since her first job at 16 as a kennel attendant. She later worked at two other private practices where she got her interest in surgery due to a large number of procedures. As well as helping with a large number of spays and neuters for various rescues. She loves working with such a fun and compassionate group at LVS. As well as the diversity of the clinics and procedures.
Cameron has quite an array of pets at home. Her favorite is her long-time companion black lab, Cersei, who can do no wrong. Where Lemon the lab/pit mix and Pickle, a boston terrier/pug mix, are always causing chaos and harassing the two cats. On the weekends Cameron loves to take them hiking, swimming, and any kind of outdoor activity!
Blake Simon, RVT
Surgery Assistant
Blake is a dedicated and experienced registered veterinary technician with 19 years of experience in the field. He is passionate about animal care and has worked tirelessly to provide the best possible care to the animals he serves. In addition to his professional work, Blake is also an avid animal lover and has a particular interest in rescuing sighthounds.
Over the years, Blake has developed a reputation as a skilled and compassionate caregiver for animals of all kinds. He has a special affinity for sighthounds and has rescued many of them from difficult situations, providing them with the love and care they need to thrive. His home has become a haven for these beautiful dogs, and he is proud to have a small army of them by his side.